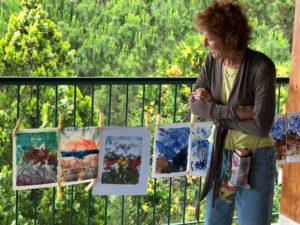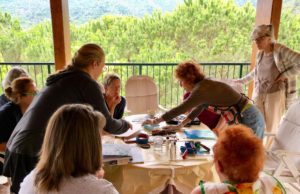 Nan's Teaching Fall 2018
Avenue of the Arts, 465 Huntington Avenue, Boston, MA
617-267-9300
Painting a Series:   
Thursdays from:                                                                                                             
September 20–December 13, 2018
6:30–9pm
10 weeks (no class 10/18, 11/15, 11/22)
Painting a Series is an opportunity for each student to have guidance in the direction of choosing a subject/theme, a medium, and a format in which to begin creating a unified body of work.  I will help each person to focus and develop in order to find their own specific voice in making art in a supportive and participatory environment. 
Painting with Oil Sticks–first session
Thursdays from:
September 20–October 25, 2018
2:30–5pm
5 weeks (no class 10/18)                                                                                                                  
We will use oil sticks and/or pigment sticks to bridge the gap between drawing and painting.  Using any oil stick will result in immediate colorful paintings.  The softer the sticks you buy (such as R & F), the more painterly the result.  But any brand will work and this should be a time to experiment, play, and get totally involved in your work.
Also, bring a "medium" clear stick, color shapers, if you have them, smooth paper, such as bristol board, smooth print-making paper (140 lb. weight).
Painting with Oil Sticks–second session
Thursdays from:
November 1–December 13, 2018
2:30–5pm
5 weeks (no class on 11/15, 11/22)
55 Salisbury Street, Worcester, MA
508-799-4406
Creating a Series:                                                                                                     
Mondays  from:
September 24–November 12, 2018
9:30am–1:30pm
6 weeks (no class on 10/8, 10/15)                                                                                                          
Sooner or later, every artist is drawn to a subject, a concept, or a medium, to the point that it becomes a theme and a reflection of the artist's creative voice. This course will help students discover what draws them to art making, whose work from art history excites them, what medium they plan to explore, and what goals they want most to accomplish. Each will produce a series of related works, focusing on an in-depth involvement and exploration that no single picture could supply. This course will include two special events: a visit from the curatorial department of WAM and a visit to see how the conservation team works or how one conservator works on a piece.
For intermediate and advanced students.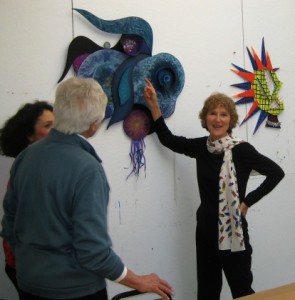 .