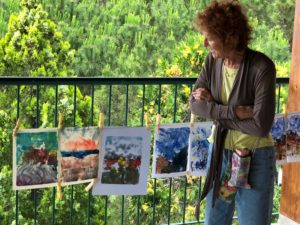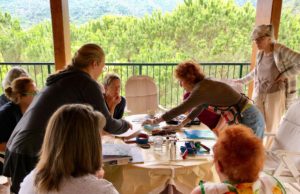 Interpreting the Tuscan Landscape through Drawing, Painting, and Mixed Media
Il Chiostro: Art, Culture, and Culinary Workshop in Italy
LOCATION:Tuscany, San Fedele Dates:  May 30, 2020 – June 6, 2020
Price:  $2,995.
Join us as we explore the hills of Tuscany through our own interpretive art!
Each day instructor Nan Hass Feldman will include lessons on technique, medium, foundations and color. For those who prefer not to be included in the instruction, Nan will be present to direct them individually if they wish, while all will take part in the group reviews and critiques.
See the entire itinerary and syllabus here 
This will be a  small group to share in this exciting, creative, communal, supportive, and fun International workshop
Sign up soon!
---
Additional Activities
Our daily painting will be combined with other adventures such as:
Day trip to Medieval Siena to sketch, take photos, explore and shop

Excursions to nearby hilltowns like Radda, Castellina, Monteriggioni, etc.

Visit to Chianti winery for a tour and tasting

Variety of plein air locations to paint landscapes, villages, and the Tuscan light

Discussions of Tuscan cuisine with our personal chef
After excursions or painting on location, we'll return each evening to relax in our 1,000 year old monastery to enjoy the surroundings, have a glass of wine and an informal critique of the day's work. Then we will move to the dining room (the authentic refectory where the monks used to assemble) to enjoy our local chef's authentic, home-made Tuscan meal, recapping the day's adventure with good company.
Nan's Teaching Spring 2019
Avenue of the Arts, 465 Huntington Avenue, Boston, MA
617-267-9300
Spring at Museum of Fine Arts
Painting a Series:  
Painting a Series is an opportunity for each student to have guidance in the direction of choosing a subject/theme, a medium, and a format in which to begin creating a unified body of work.  I will help each person to focus and develop in order to find their own specific voice in making art in a supportive and participatory environment.  
Thursdays from: 
    April 4 – June 13, 2019   
6:30–9pm   (10 weeks)
(no class April 18th)
Painting with Oil Sticks- 1st session
We will use oil sticks and/or pigment sticks to bridge the gap between drawing and painting.  Using any oil stick will result in immediate colorful paintings.  The softer the sticks you buy (such as R & F), the more painterly the result.  But any brand will work and this should be a time to experiment, play, and get totally involved in your work.
Also, bring a "medium" clear stick, color shapers, if you have them, smooth paper, such as bristol board, smooth print-making paper (140 lb. weight).
Thursdays from:
2:30–5pm   (5 weeks)
 (no class on April 18th)
Painting with Oil Sticks – 2nd session
Thursdays from:
55 Salisbury Street, Worcester, MA
508-799-4406
Creating a Series:   Finding Your Voices:    
Mondays  from:
April 29– June 10, 2019
9:30am–1:30pm   (6 weeks)
 How to Design a Painting   
 Workshop:
 April 27th & 28th, Saturday and Sunday
 9:00 am – 4:00 pm
 This fun and informative introductory class will cover basic drawing and design the first whole day and color concepts, exercises, and making a painting the second whole day.
 Students will explore design principles through art historical references, develop an understanding of color by using and mixing acrylic paints, and create an abstract painting with recognizable subjects in a very colorful composition. 
This primer is a fun and creative way to understand what goes into creating any work of art. 
Three Mediums: Working with Resist Materials 
 Workshop:
May 18th, Saturday
9:00 am – 4:00 pm 
All Levels
In this workshop students learn how to use three unique mediums to produce unusual and unexpected results, which are great to use in the studio or outdoors.  We combine water-based materials (watercolors) with oil-based Caran d'ache crayons and oil pastels to create mixed-media resists. The result is rich in line, form, color, and texture. The watercolor resists the linear crayon and oil pastels and fills in any spaces while also adding texture to the surface.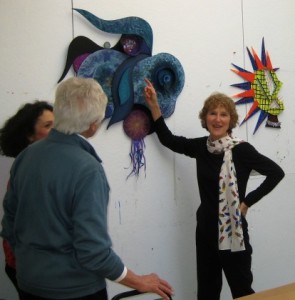 .